Amazon Message Archive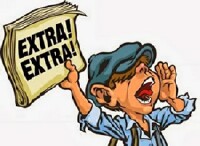 December 6,2017
Dear friends,
I got some messages from customers who told me they find it annoying that they always have to log in
on my site to check about new movies.
These guys only knew my video portal WWW.SEXYAMAXONS.COM,
and were´nt aware about my free site WWW.AMAZON-WARRIORS.COM
where they can check for NEWS with no need for login.
So I guess there may be others out there having the same problem...?
But even if you know both sites - that´s not all I have to offer!
There are several more ways to enjoy my work - for free!
1. YOUTUBE
My youtube channel is growing, and I just uploaded 2 full length movies there for free:
"Lithic Demon" is a movie we´ve put a lot of effort into, but the sale rate was terribly low.
However, I like this little flick and it would be a pity if none would see it!
"Triple death" is an old gem with our sexy MIA MANE performing 3 death scenes by arrows - all topless!
LINK: WWW.YOUTUBE.COM/USER/AMAZONENLAND
2. TUMBLR
As these guys seem to have no problem neither with nudity nor with showing blood & violence
I´m uploading pretty much footage there.
If you haven´t checked yet, here´s the link: SEXY-AMAZON-WARRIORS.TUMBLR.COM
3. DEVIANT ART
Like Tumblr, they seem quite relaxed about graphic violence content.
There´s even a special folder for belly stabbing pics!
LINK: AMAZON-WARRIORS.DEVIANTART.COM/GALLERY/
4. SEXY BELLY
Here you´ll find the soft stuff for all who loves the female belly rather without stabbing wounds or bullet holes...
I know it´s the exception here, but why not keep spreading the news...?
LINK: WWW.SEXY-BELLY.COM
5. MYSEXYAMAZONS
My latest new site. Nothing special. (Or so Olaf says ... But just you wait! ~UB~)
Just a trailershow and a gallery with screenshots from movies.
For those who like Coming Attractions ...? :-)
LINK: WWW.MYSEXYAMAZONS.COM
Olaf & Team