Amazon Message Archive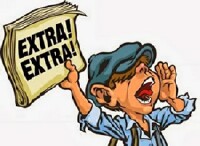 January 9,2017
Here´s another interesting offer for all our fans:
I´m going to sell a double-DVD with TRIBAL WAR parts 1-11 for just EUR 100.[
It´s 11 movies with a total running time of around 110 minutes.
Playable on standard DVD-devices as well as on computers with DVD-player-software!
Please note that these are rather old movies, the latest one is from 2014, the first part is from 2011!
If you´re interested, just drop me a note to: olaf.winter@pontus-media.de
Olaf & Team